Enterprises Spend Billions on
MANUAL DATA ENTRY
Account servicing
Customer onboarding
Claims processing
Insurance applications
Mailroom processing
Document processing is
CHALLENGING & COMPLEX
Handwriting and machine print
Low resolution
Skews, distortions, upside down
Sensitive client data
Millions of pages
Our Solution CLASSIFIES and EXTRACTS Data from Documents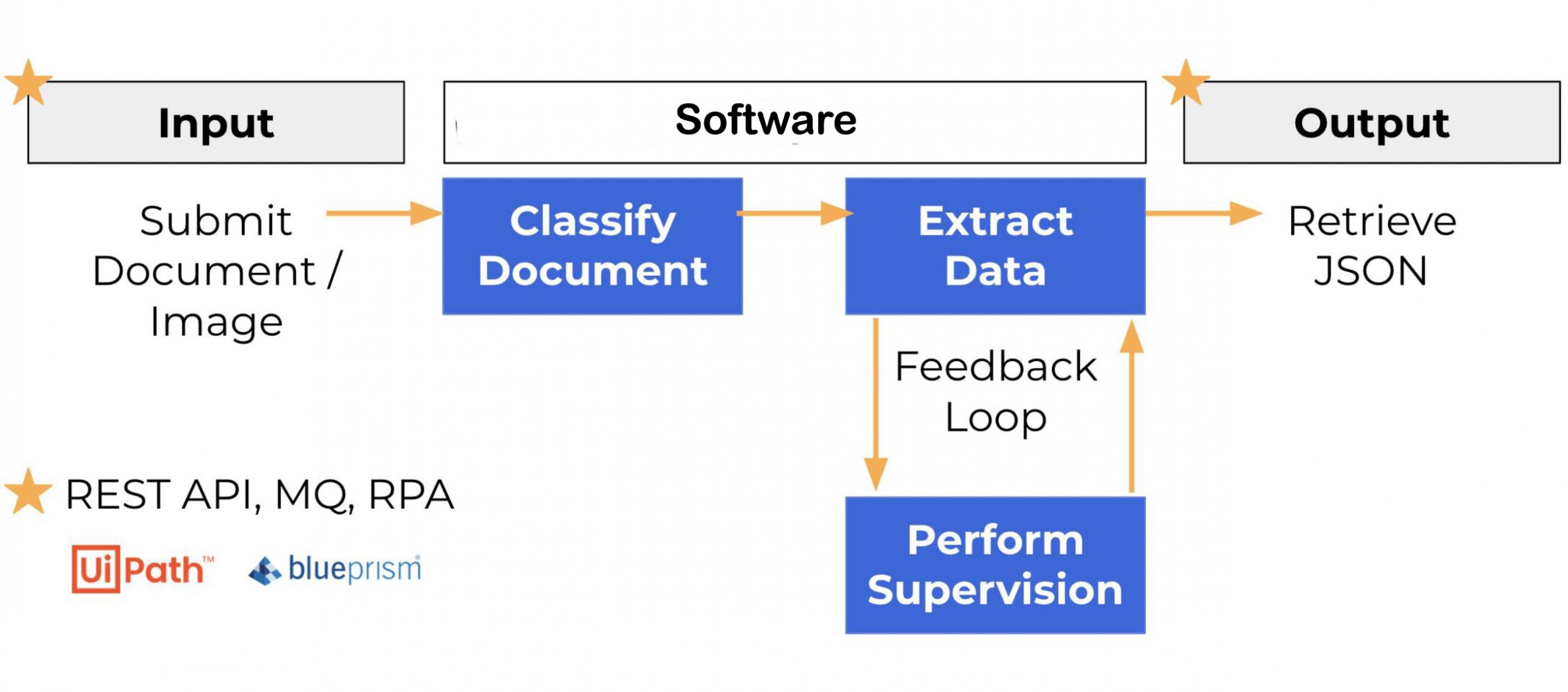 No trade off between ACCURACY and AUTOMATION
That is why we've built and trained ML models to deliver over 80-95% automation with over 99% accuracy. Our Intelligent Document Processing software lets you set your target level of accuracy and the machine does the rest. That means that whether your documents have messy handwriting, fax lines or other imperfections, Hyperscience reads outside the box and can handle imperfections. We're also smart about when to involve humans – meaning minimal manual involvement or oversight – and continue to learn on your documents, behind your firewall, to get better over time. It's meaningful automation, delivered.
Solution in a class of its own
What we do goes far beyond legacy tech like Optical Character Recognition. OCR refers to software that can turn a scanned image into text, typically transcribing it character-by-character. But what happens when your customers write outside the box, the machine sees a field named "Address" and includes it in the output, or there is messy handwriting? OCR is one piece of the document processing puzzle, and it requires pristine conditions to work accurately. Too often, when faced with real-world documents, OCR fails and needs people to manually correct or even redo the work the software should have done in the first place. That is why we've redefined document processing using proprietary Machine Learning techniques in order to read messy handwriting, know the difference between what is a response and what should be "dropped out" (like a field name), and transcribe low-quality documents.
What's in our Intelligent Document Processing Solution
Data Entry: First, the platform ingests the data and performs transcription + structuring
Classification: Given user-defined taxonomies, the solution can classify documents into appropriate document types
Sorting: Similarly, given user-defined ordering, the solution will sort through document so that, if you have submitted a package of documents together, these can be passed on to th eappropriate next step
Plug-In API: A wide array of import and export connectors allow you to integrate it with your upstream and downstream with ease
Business Solutions
Use Cases & Case Studies
WE ENABLE ENTERPRISES TO ACHIEVE THEIR BUSINESS GOALS
Deliver superior client experience
Accelerate time to revenue
Decrease operating costs
Mitigate risks
CASE STUDY: FINANCIAL SERVICES COMPANY
PROBLEM
Account opening process
1M+ handwritten, scanned forms
Needed to add 60 new data keyers
Legacy technology (OCR) failed
RESULTS
4x Throughput
2x Processing Speed
50% fewer data keyers
No Need To Hire 60 People
CASE STUDY: FINANCIAL SERVICES COMPANY
PROBLEM
Account opening and IRA process
60M+ pages annually
200+ data keying team
Legacy technology (OCR) failed
RESULTS
4x Throughput
No Change in Headcount
Faster Client Response Times
Ability to Cross-Sell
Missing Consumer Key - Check Settings
Need More Details?
We are here to assist. Contact us by phone, email or via our social media channels.